Ausstellung PIERO ZUCCARO, STEFANIA ORRÙ und KEVIN A. RAUSCH
28.07. – 27.08.2023
Der Container 25 blickt zurück, auf eine höchst erfolgreiche Ausstellung der Künstler*innen Piero Zuccaro (IT), Stefania Orrù (IT) und Kevin A. Rausch (AT).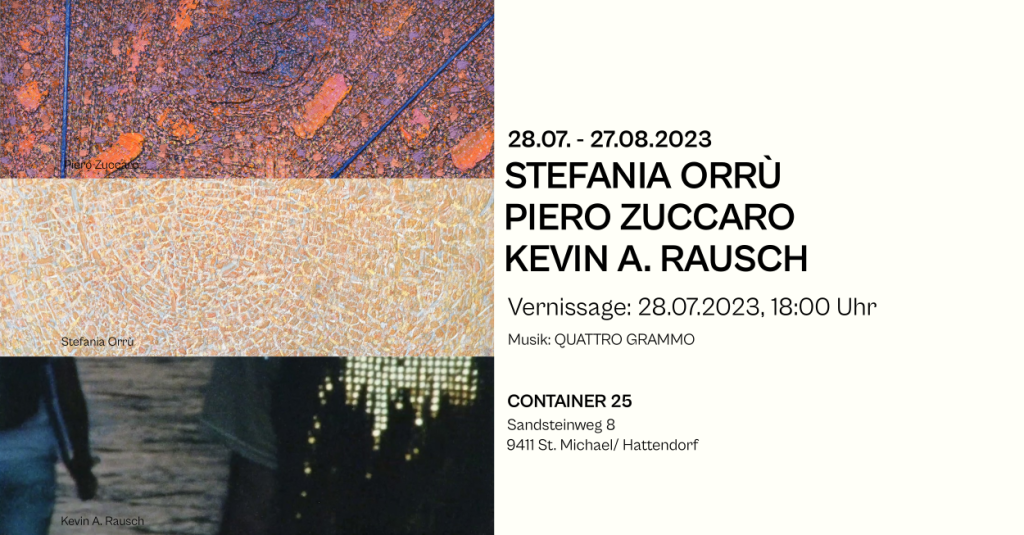 Vernissage:
Musik: QUATTRO GRAMMO
Zur Ausstellung: Alina Volk und Katharina Kast (organisatorische Leitung)
Begrüßung: Dr. Michaela Lientscher (Vizebürgermeisterin und Kultureferentin Stadtgemeinde Wolfsberg)
Zur Ausstellung:
Die Ausstellung von Piero Zuccaro (IT), Stefania Orrù (IT) und Kevin A. Rausch (AT) zwischen dem 28.7. und 27.08.2023, verbindet ausgewählte Arbeiten, die die direkte Konfrontation der drei KünstlerInnen mit der Emotionalität des jeweiligen Sujets widerspiegeln. Drei Positionen, die vorweg eines gemeinsam haben – den Schauplatz ihrer Entstehung in Italien.
Herangehensweisen und Methoden variieren und umfassen die Medien Malerei, digitalen und analogen Film. Neben dichten, abstrakten Ölgemälden und Werken, die sich antiker Techniken und Materialien, wie Fresko, Tempera und Pigmenten, bedienen, werden filmische Installation präsentiert, die die Gemeinsamkeit einer lebendigen Bildsprache der KünstlerInnen unterstreicht.
In diesem Aufeinandertreffen von Zuccaro, Orrù und Rausch zerstreuen sich die Oberflächlichkeiten von kulturell geprägten und geografisch bedingten Grenzen und erlauben der Betrachterin, die sinnliche Intensität und nuancierte Kunstfertigkeit in den ausgestellten Werken zu erleben.
Piero Zuccaro malt großflächig angelegte Bilder, die zunächst durch ihre Beschaffenheit der Oberfläche von dichter, üppiger Materialität den Blick auf sich ziehen. Abgesehen von der Größe ihres Formates wirken die Bilder großzügig, sogar verschwenderisch. Auf der pastosen Bildfläche, von unzähligen Varianten an Strukturen und einem weiten Spektrum an Farbigkeit, erscheinen Linien, die, einem Relief ähnlich, direkt in die Materie gekerbt werden. Sie schneiden, pflügen die Bildfläche und erzeugen Bewegung und Dynamik. Die niemals glatten Oberflächen der Bilder erinnern an Strukturen und Beschaffenheiten wie sie in der Natur vorkommen – Baumrinden, trockener Lehm, Formationen von Gesteinssediment, bewegtes Wasser. Es sind intensive, energievolle Bildermit einer aus der Verbundenheit zur Natur inspirierten Oberflächenstruktur, die gleichzeitig, in einem emotionalen, direkten Malakt, ihren Ausdruck in der engen Verbindung mit der eigenen Körperlichkeit finden.
https://www.pierozuccaro.it/site/
Stefania Orrù greift in ihren Bildern auf alte Herstellungstechniken, wie Affresco, Tempera auf Pappe und Scagliola zurück. Sie sind die Basis und zugleich Ausgangspunkt einer Geschichte. Der Geschichte hinter dem vordergründigen Erscheinungsbild an der Oberfläche, die der Künstlerin wichtig ist. In Abfolgen von Arbeitsschritten, wie wiederholtem Schleifen und Bürsten, lässt der Arbeitsprozess das Kunstwerk langsam wachsen, entwickelt sich der raue Untergrund zu einer glatten Oberfläche. Es erscheinen kleinteilige Flecken in chanchierenden Farbverläufen, flächendeckend, die sich in Formationen verdichten, oder sich ausbreiten und im Bild bewegt und lebendig wirken. Oft geben Linien von feiner Geometrie eine Richtung vor. So entsteht der Eindruck von Fließen, Schweben oder Durcheinandertanzen der Struktur. Einzelne Flecken, die im Vordergrund auftauchen, vermitteln Räumlichkeit. Andere Bilder von Stefania Orrù erscheinen wie Fresken, die Anteile an Raum und Architektur, wie Kuppeln oder Fenster, aufweisen. Es ist die Tiefe einer Geschichte, eine starke Aura, die den Reiz dieser Bilder ausmacht.
Kevin A. Rausch legt in seinen Arbeiten den Fokus auf das Individuum, auf den Menschen inmitten seines Lebensraumes, seiner Suche nach einem Platz in der Gesellschaft, seiner Unzulänglichkeit, seinen Illusionen, der tiefen Sehnsucht nach Verbindung. Er richtet seinen Blick auf die Sehnsucht von Charakteren, die nicht nur durch die landschaftlich angelegten Bildräume wandern, sondern auch in Gestalt von Skulpturen in Erscheinung treten. Es ist ein thematisiertes Feld, das auch im Medium Film , wie in "Napule" zum Ausdruck kommt.
***
The exhibition of Piero Zuccaro (IT), Stefania Orrù (IT), and Kevin A. Rausch (AT) between 28 July and 27 August 2023, combines selected works that reflect the direct confrontation of the three artists with the emotionality of their respective subjects. Three positions that have one thing in common – the setting of their creation in Italy.
Approaches and methods vary and include the media of painting, digital and analog film. Film installations are presented alongside dense, abstract oil paintings and works that use ancient techniques and materials, such as fresco, tempera, and pigment, underscoring the artists' commonality of a vivid visual language. In this confluence of Zuccaro, Orrù, and Rausch, the superficialities of culturally defined and geographically conditioned boundaries dissipate, allowing the viewer to experience the sensual intensity and nuanced artistry in the works on display.
Piero Zuccaro paints large-scale paintings that initially attract the eye by the nature of their surface of dense, lush materiality. Apart from the size of their format, the paintings seem generous, even lavish. On the impasto surface of the painting, of innumerable varieties of textures and a broad spectrum of colorfulness, appear lines that, similar to a relief, are scored directly into the material. They cut, plow the picture surface and create movement and dynamics. The never-smooth surfaces of the paintings are reminiscent of structures and textures found in nature – tree bark, dry clay, formations of rock sediment, moving water. These are intense, energetic images with a surface structure inspired by the connection to nature, which at the same time, in an emotional, direct act of painting, find their expression in the close connection with their own physicality.
https://www.pierozuccaro.it/site/
Stefania Orrù resorts in her paintings to ancient manufacturing techniques such as affresco, tempera on board, and Scagliola. They are the basis and, at the same time, the starting point of a story. The story behind the superficial appearance on the surface is essential to the artist. In sequences of work steps, such as repeated sanding and brushing, the work process allows the artwork to grow slowly, and the rough substrate develops into a smooth surface. Small-scale patches appear in channeling color gradients, covering areas, condensing into formations, or spreading out to appear moving and alive in the painting. Lines of refined geometry often give direction. This creates the impression of a flowing, floating, or jumbled structure. Individual spots that appear in the foreground convey spatiality. Other paintings by Stefania Orrù appear like frescoes, with portions of space and architecture, such as domes or windows. It is the depth of a story, a strong aura, that makes the appeal of these images.
Kevin A. Rausch focuses in his works on the individual, man amid his habitat, his search for a place in society, his inadequacy, his illusions, and the deep longing for connection. He focuses his gaze on the longing of characters who not only wander through the landscaped pictorial spaces but also appear in the form of sculptures. It is a thematized field that is also expressed in the medium of film, as in "Napule."
Pressespiegel:
ORF Kärnten: Kunst in der Getreidemühle
Mein Bezirk: Künstler-Trio lädt zu italienisch-österreichischer Ausstellung
LA SICILIA: In Austria, il catanese Zuccaro dialoga in "arte" con Orrù e Rausch
L'Estro Verso: Arte, emotività e affinità: Piero Zuccaro, Stefania Orrù e Kevin A. Rausch
Fotogalerie:
Unterstützt durch